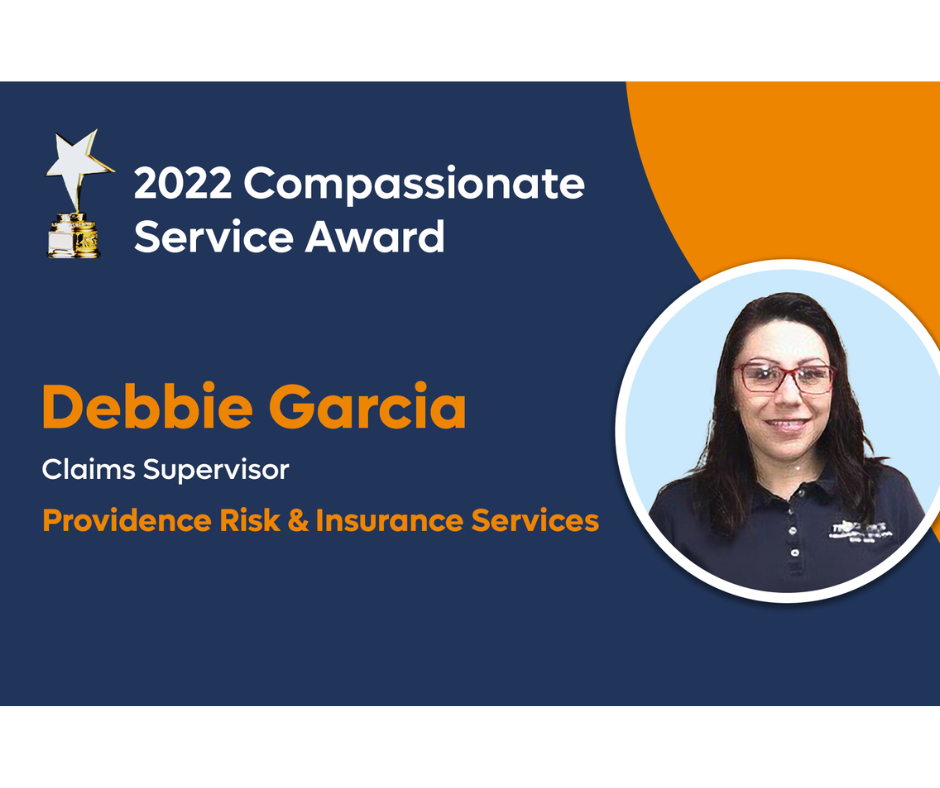 PartnerSource Names Debbie Garcia Winner of 2022 Compassionate Service Award
PartnerSource, the leading source for responsible alternatives to traditional workers' compensation in Texas, recently honored Debbie Garcia, injury benefit coordinator and supervisor with Providence Risk and Insurance Services, for her compassionate commitment to injured workers with a 2022 Compassionate Service Award.

"Debbie truly embodies the spirit of this award as she is one of the nicest, most kind people," said Kelly Norwood, vice president of PartnerShip Services for PartnerSource. "She balances a gentle approach with precise technical expertise." 

A resident of New Braunfels, Garcia serves as an injury benefit coordinator and supervisor with Providence in San Antonio. She spent many years in customer services before joining Providence in 2012 as a claims assistant. In this industry, she has found her niche: Garcia was promoted to injury benefit coordinator with Providence in 2013, senior injury benefit coordinator in 2018, and named claim supervisor in 2022. 

"Debbie is prompt with her responses, always professional and collaborative in her approach," Norwood said.

The award was announced at OneSource, PartnerSource's signature industry education series held on October 6 and attended by professionals from sectors including retail, hospitality, food service, transportation and logistics, healthcare and more. Compassionate Service Award winners are chosen based on nominations from PartnerSource employees and industry thought leaders. Paige Watts with Baylor Scott & White Health also was honored with a 2022 Compassionate Service Award.

"Both of these winners are professionals who represent kindness, compassion and empathy in the care of injured workers," Jennifer Hurless, president of PartnerSource, noted. "It's an honor to recognize them for their work, which exemplifies the way that PartnerSource and our clients believe injured workers should be treated."