April 19, 2017
Texas nonsubscriber Option:  Providing better disability benefits?
Can workers' compensation costs be dramatically reduced, while paying better disability benefits to injured workers?  A ground-breaking, 20-page report answers that important question with a definitive "YES"!
This new report published by WorkCompCentral demonstrates how improving benefit adequacy for injured workers is being achieved every day in Texas and is available to other forward-thinking states. Read more and mark your calendar for a webinar discussion on May 24.

Public policy groups strongly support Texas option to workers' compensation
The message in recent reports from several prominent research groups is clear:  Public policy favors market competition and the improved outcomes for injured workers and employers available through an option to workers' compensation.
Texas Public Policy Foundation (TPPF) is the largest state-based, non-profit, non-partisan research institute.  TPPF has published a new 24-page report titled, "The Lone Star State Model for Helping Injured Workers".  Key Points include:
Texas' injury benefit plans have resulted in shorter periods of disability after accidents, fewer claim disputes, lower costs, and faster claim payouts.
Competition from private sector work-injury benefit plans has caused dramatic improvement in Texas' regulated workers' compensation system for all employers and workers.
Special interests are waging a fight against private sector work-injury benefit plans in Texas and other states that are considering adopting a similar model.
Competition in injury benefit plans has made a significant contribution to the vibrancy of the Texas economy.
The National Center for Policy Analysis has also joined TPPF and the Illnois Policy Instittue in support of Texas' dual system of getting injured workers treated and back to work quickly.
Texas and Oklahoma Option performance data
On the PartnerSource homepage at www.partnersource.com
DWC grace period for late form filing ends April 30, 2017
The Texas Department of Insurance, Division of Workers' Compensation is providing a grace period for employers who are nonsubscribers to report this status and file other forms without penalty until April 30, 2017.  For more information, click here.
360° review for current nonsubscribers  
Contact PartnerSource to arrange a no-cost 360° review of your program.
Financial Benchmarking
State and Federal Compliance Review
Injury Benefit Plan Document and Claims Best Practices
We work with your Broker.
---
UPCOMING EVENTS
---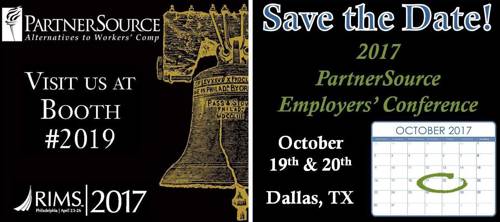 ---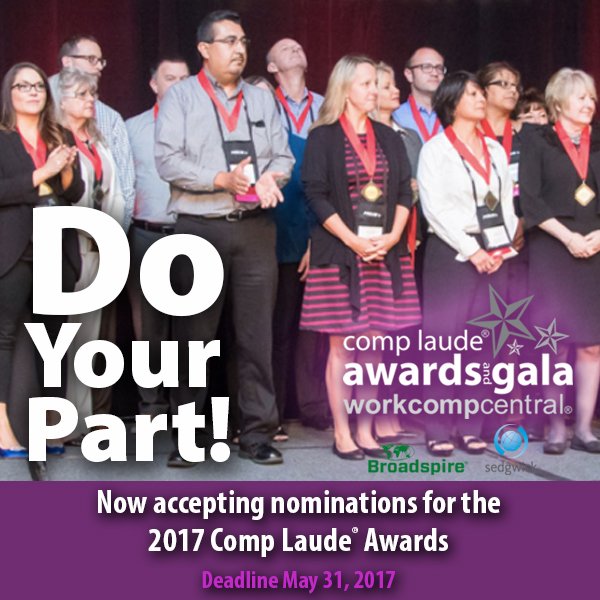 Nominations open for Comp Laude Gala 2017
WorkCompCentral's "Comp Laude Gala" is the biggest
workers' compensation industry event celebrating and
recognizing achievement in positive results for injured
workers.  This year's event will be October 30-November 1, 2017
in San Diego.
Nominate an injured worker, attorney, medical provider,
employer, service provider or other industry leader for
an award now through May 31.