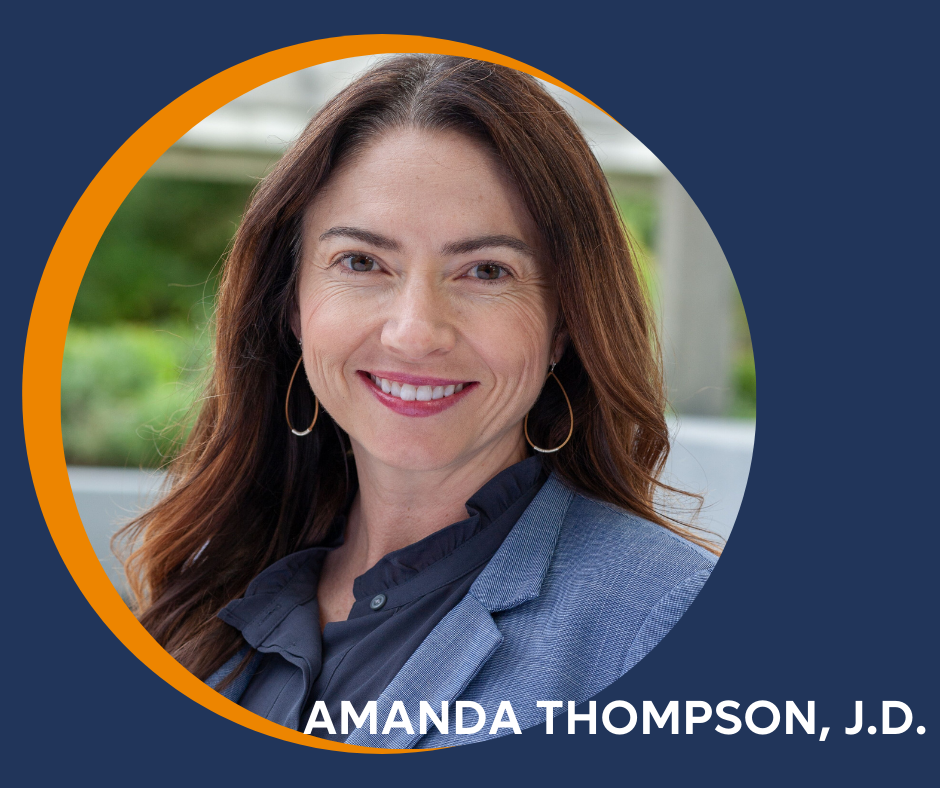 Five Questions with Amanda Thompson
Being an attorney may be in her blood, but this professional values her time spent with people from a variety of perspectives who all have the same mission: Achieving better medical outcomes for injured employees. Meet Amanda Thompson.
Q: How did you select your career?
My dad was an attorney, so I guess you could say I was either destined or doomed, but actually, this is a second career for me. I was working in marketing, and my husband, 16-month-old daughter, and I were standing near the ocean one day on vacation and I just blurted out, "I think I want to go to law school." The truth almost always comes out at the ocean. I felt a need to contribute to society, and it's a career that kept my dad working until he was 89. My husband was supportive. My dad tried to talk me out of it--as all good lawyers do--and I told him it wasn't a question. I graduated from SMU, my dad's alma mater. There, they have a tradition that your parent or grandparent who also graduated SMU Dedman School of Law can walk with you during your hooding ceremony. My dad, George Finley, class of 1952, walked with me. He has been gone just over five years now and that is one of my favorite memories.
Q: How does your role help PartnerSource clients get better medical outcomes for their injured employees?
One of the things I appreciate most about my position is that I have a direct hand in somebody's outcome. The overall flexibility of the plan gives us the opportunity to find out what someone is really wanting or needing, and that's not always money: People who are really injured want to feel better. The plan offers flexibility, and PartnerSource offers the insight and creativity to look at circumstances in a comprehensive way. Our expertise in the industry is directly related to positive outcomes for others and we just continue to build upon that repertoire. The truth is that things are not always black and white. Oftentimes, we will bring in a new concept and everyone involved is like "YES!" I don't love it when something catastrophic happens, but I do love it when I feel like I've made the fair decision that is good for business but also the person who has been impacted.
Q: What has surprised you most about your position with PartnerSource?
It would be fair to say I was not expecting to love my job as much as I do. Before coming to PartnerSource, I worked at a large law firm. Initially, I made the move to PartnerSource to be more present with my children and husband. My daughter was nine at the time and I felt like we were playing an 18-hole round of golf, so to speak, and so I wanted to make sure I was there for the back nine. However, I could not have anticipated how much I would enjoy being a part of the mission of PartnerSource in making a positive difference in people's lives. I took the job because of the commitment I wanted to make to my family not expecting to love it as much as I do, and finding additions to my family along the way.
Q: Can you share a lesson you have learned while working at PartnerSource?
Since coming to PartnerSource, I have really understood the value of people with different perspectives around one issue. When I worked at a law firm, I was surrounded by people like me – other attorneys – all day. But in my work for PartnerSource, I have the best of both worlds: I do work with other attorneys, but also with people who aren't lawyers. There is so much to learn from people from various backgrounds and roles, and speaking with a variety of people about the same issue is enlightening. For example, I love to see how a claims adjuster sees a claim and potential risk. Everyone has something different to bring to the table, even when talking about the same claim.
Q: How did you meet your significant other?
My now-husband, Joe Don, and I were high school sweethearts, actually. We dated in 8th, 9th, 11th and 12th grades before we left for college. After I graduated from UT in Austin and moved to Dallas, Joe Don and I were living in the same apartment complex, unbeknownst to each other. I was so surprised to see him one day while I was out walking with a friend, and we said hello. Not long after that, a mutual friend of ours from San Angelo was getting married and I had been asked to play the cello for the wedding. I called his mom, got his phone number, and asked if he wanted to sit with my parents at the wedding, and with me at dinner. That was our second "first date," September 27, and, years later, it became my son's birthday, too.