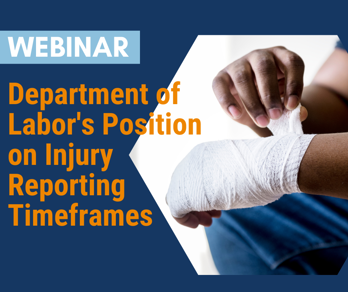 Want to know more about the DOL's position on injury reporting timeframes?
Join PartnerSource President Jennifer Hurless as she discusses injury reporting timeframes, "good cause" exceptions and the steps Texas Option programs should take to ensure compliance.
There are two opportunities to participate in this 30-minute webinar:
Nov. 11 at 10 a.m. CT

Nov. 16 at 2 p.m. CT
Register today to attend one of these complimentary sessions.
Have specific questions? Email Jennifer_Hurless@partnersource.com to have your question added to the list.
 
PartnerSource will attend the SWBA 32nd Annual Employee Compliance Conference November 4-5 at Omni Dallas Park West in Dallas. Come see us in the exhibitor hall!
The Alternative to Workers' Comp, commonly referred to as Texas Nonsubscriber Option, or just "the Option", is a completely different approach to providing on-the-job benefits to injured workers. Using the ERISA platform, the Option has many advantages over traditional workers' compensation.
PartnerSource is the recognized leader in this field.
Find out more
NEW 2020 TEXAS INJURY BENEFIT PROGRAM PERFORMANCE REPORT
Kids' Chance
PartnerSource is proud to be a founding sponsor of Kids' Chance of Texas.  Their mission is to create and support educational scholarship programs for Texas children whose parents have suffered a severe or fatal injury at work. To learn more, please visit http://www.kidschanceoftexas.org/