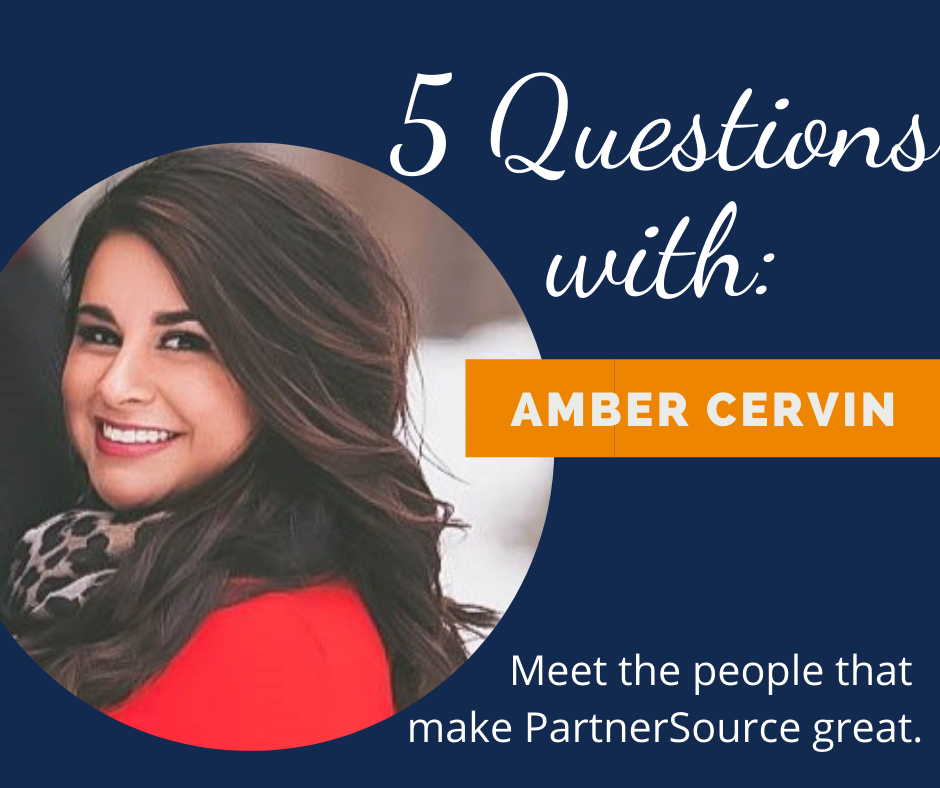 Five Questions with: Amber Cervin
She's been on the PartnerSource team for 10 years and is now stepping into a new role to combine her love of communication with her knack for strategy and design. This sportswoman relishes her time in the outdoors and is excited to welcome a new addition to her family. Find out more about Amber Cervin.
How did you first find out about PartnerSource?
I received my degree in early childhood education and was teaching in Colorado when I decided to move back home to Texas. A family friend told me that PartnerSource needed some administrative assistance. I was intrigued because the first thing this friend told me about PartnerSource was that its whole goal was to help people. That spoke to me.
I hired on as a team coordinator under Jennifer Hurless, who was a team leader at the time and who is now president of PartnerSource. She's been a great mentor to me. I had the opportunity to experience the claims side and then moved into a manager position. It was a great fit as I was able to learn more about the analytics and the entire claims process. Since then, I've learned more about all sides of the business.
What do you think surprises people most about PartnerSource?
Many are surprised to learn that we're not just experts in one niche: There is the claims side, the legal side, and our industry leadership in hosting the PartnerSource Employers' Conference every year. The litigation aspect intrigued me so much that I earned a paralegal license from Southern Methodist University just so I could be more knowledgeable about it. PartnerSource is surprising because of the diverse things we do for our clients and the industry. And, these many pieces all work toward one, singular goal: achieving the best medical outcomes possible for injured workers.
You are celebrating your first decade of service with PartnerSource, and you have just moved into a new role as director of marketing. What are your goals in that new position?
Finding new creative ways and solutions to explain the value PartnerSource brings to our clients is my goal. If we can explain exactly how this approach can benefit their employees, I think it would be more attractive to them and, in the long run, benefit more people.
In each position I've had with PartnerSource, I feel like I've had an opportunity to create new processes. I like having a blank canvas with which to create and streamline things, and I think that's why I'm really excited about this new position.
What do you enjoy doing in your free time?
I love just being outdoors. I love playing sports and have been an athlete my whole life. I was blessed to receive a full college scholarship to play soccer for John Brown University in Northwest Arkansas, and that's where my love of the outdoors grew.
My husband, Justin, and I love to do anything active. Our favorite vacations involve going snowboarding in Colorado or bumming around Brainerd lakes area in Minnesota; where my husband is originally from. When at home in Texas, you can find us on the lake or golfing. We live outside the city on some acreage in a "barndominium" we built a few years ago. Our big porch is our happy place and we tend to spend a lot of time out there just enjoying the outdoors.
Do you have a cause that is close to your heart?
One thing I'm passionate about is sharing my infertility journey. Justin and I struggled for six years to get pregnant. I'm passionate about sharing my story and encouraging other women via my Instagram, @prayerfully_built, which I started to show the building process of our barndominium on our land. Now, it's about the process of building my family. It's been such a blessing because women who have suffered in silence reach out to me, and I keep up with them and give some support however I can. It's also important to me to share my journey so that others who know someone struggling with infertility can learn how to support their loved ones. I'm proud of how much I have gone through and I want to help others through sharing my story. My first baby is due in February and we will name her "Eliana," which in Hebrew means "My God has answered." She is our little answered prayer.