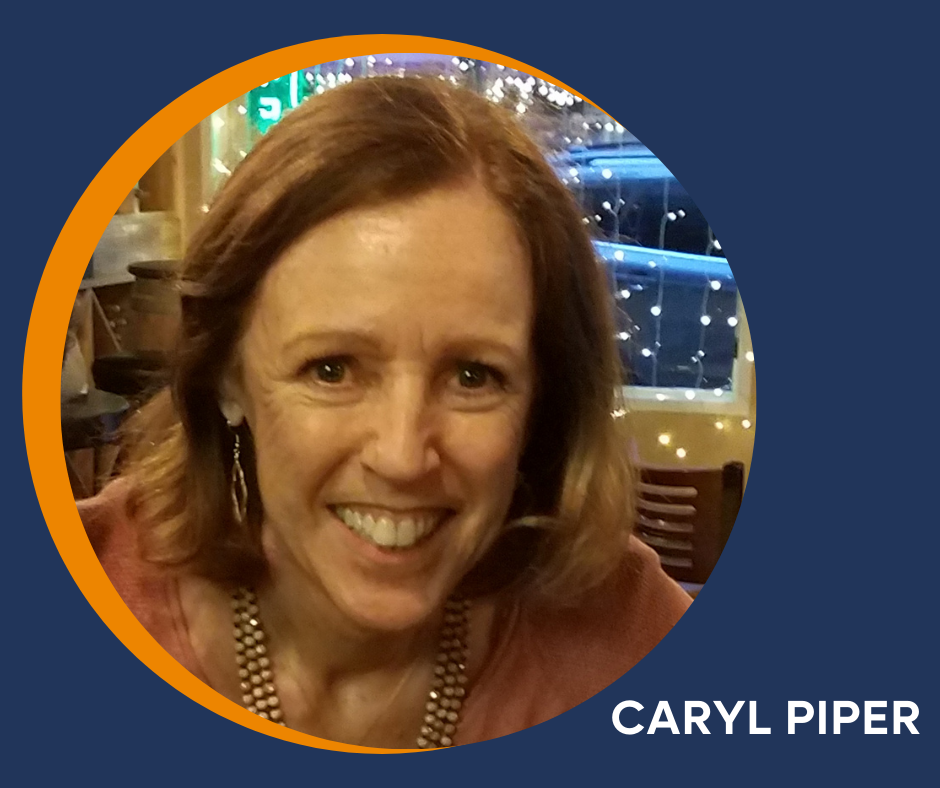 Five Questions with: Caryl Piper
This team coordinator first learned teamwork in a pre-school outside of Paris. But it was a move to Texas and a friendly neighbor that brought her skills to PartnerSource. She puts extensive executive experience together with a friendly demeanor to make a difference for clients and the teams that assist injured workers. Meet Caryl Piper.
Q: What's something most people are surprised to learn about you?
A: I am an Air Force "brat" (the term given to children of military service members). My dad served in the Judge Advocate General's (JAG) Corps. I attended school in six different locations, starting with pre-school in a town outside of Paris. My teacher would walk down our street with a rope fashioned with little knots, and we would grab our own knot and follow the team along. She took us to a local park where we sat on a blanket together, learning our colors, numbers and some conversational French. I almost knew more French back then than English! Before I graduated high school and went to The University of Texas at Austin, I had the opportunity to attend schools in California, Maryland, Nebraska and Texas.
Q: How did you find out about PartnerSource?
A: I had an inside connection! I was good friends with Amy Blank [vice president of PartnerShip Services for PartnerSource]. We used to live across the street from each other, and our kids grew up together. She is just the most positive, happy person -- the kind of person you want to be around. It just made sense to me that if she was happy where she was, that meant something. When a position opened up as a team coordinator, she encouraged me to apply, and I did.
Q: Describe your role at PartnerSource.
A: I serve as a team coordinator, and, like the title says, I help to coordinate the team, from drafting the scheduling, to ensuring that state and federal forms are filed for our clients, to keeping timelines up to date, drafting attorney letters– everything. It's important to keep up with everyone and what they are doing to ensure cohesive, complete support for our clients. I started my career as an executive assistant, and my attitude has always been that the client comes first. That mentality to make sure they are happy and have what they need translated well to PartnerSource, which is committed to getting the very best for our clients and making it all as seamless as possible.
Q: What is something you've learned at PartnerSource?
A: Something that jumped out at me early on in my work at PartnerSource is "teamwork." That concept is something that seems to be stressed at a lot of different companies and organizations – but to see it happen the way it's supposed to happen, the way it does at PartnerSource, is pretty neat. Teamwork really is here and it really does work. I started here just months before the pandemic and even when our team was distanced, I felt supported and part of the mission at all times. It's the greatest group of people I've ever worked with; they are the most welcoming group and they made me feel at home from the very beginning. I've enjoyed working at other companies (some of my former colleagues are still family to me), but at PartnerSource, our work here is all intertwined with one another's, and we really do talk at all levels. They're here to help you when you need it, and you're happy to help when they need it.
Q: How do you relax when you're away from work?
A: I'm a jogger, a walker, a hiker -- I enjoy being outside. If I could be outside all day, I would. We just found a place that's new to us, in Plano, called the Arbor Hills Nature Preserve. I'd never been there before! We have spent hours there walking around, both on the paved trails and off of them. Something about the fresh air revitalizes me; I'm not a person who enjoys being cooped up all the time. I also enjoy traveling to new places. COVID put a damper on my travels, but I'm ready to go again. And I'm a big-time foodie! Seafood and Asian cuisines are my favorites, and Mexican food is right up there, too. My fiancé is a lot picker than I am, but I like to try everything!