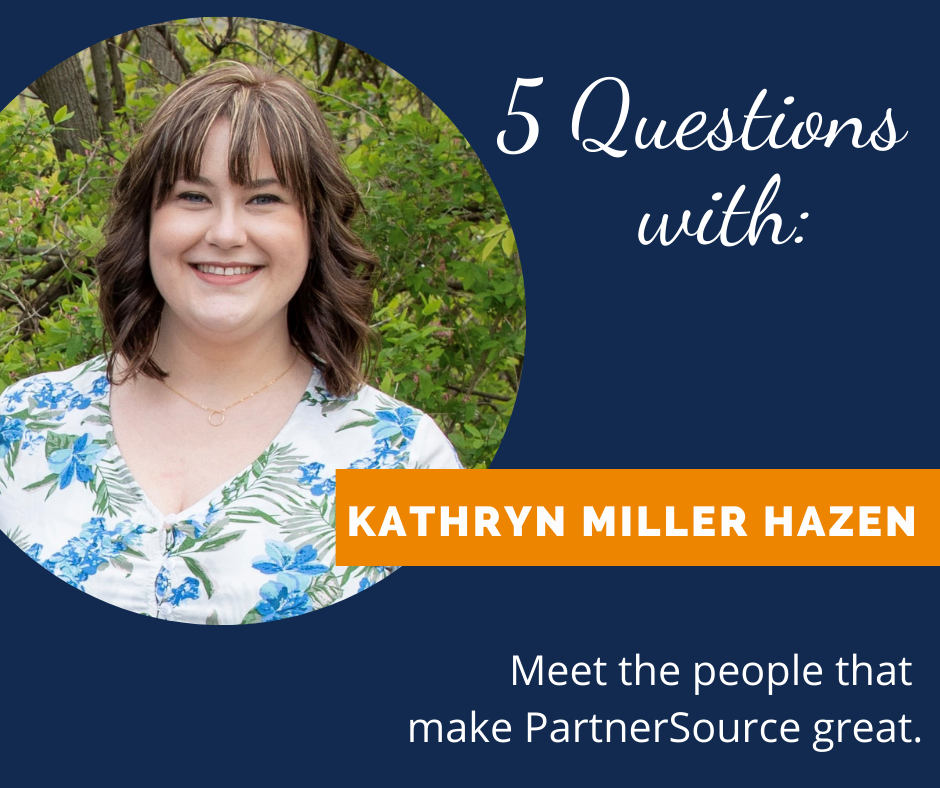 Five Questions with Kathryn Miller Hazen
She planned a wedding from 1,500 miles away — during a pandemic — but that was no big deal for this organized team coordinator. She's a happy newlywed who enjoys the success of her teams both at home and at work. Meet Kathryn Miller Hazen.
First things first: Congratulations on your marriage! What was it like to plan a long-distance wedding during a pandemic?
My wedding was in New York, where I am from, and that was really interesting to plan. We were engaged in August of 2019 and I moved to Texas in November of 2019. I managed to pick a venue, the photographer, my dress and the DJ before I moved down. I knew I wanted to get those big things out of the way, just because. Everyone made fun of me for planning so far in advance – and then COVID hit, and no one was making fun of me then! Our wedding was June 26, 2021, and we were prepared to only have 50 people, in accordance with New York's guidelines. Up until about 3-4 months before, we didn't know how many people we could have, so we weren't telling anyone who was on that list so that no feelings would be hurt. We planned for the worse and hoped for the best--and it turned out great!
Any advice for others planning weddings or events?
Lean on your team. For me, that meant relying on my bridesmaids, my maid of honor, and my mom. They helped me out so much! Don't take it all on yourself; they are your team for a reason. And, on the day of, you'll want nothing but water. Dancing and drinking water: that's what I did at my wedding. It's also important to be able to enjoy someone else's plan. For example, my husband, Ryan, is planning our honeymoon and he is not telling me anything about it. People ask me if that drives me nuts but after planning this whole wedding, I'm glad someone else is doing the planning. I don't even know where we're going!
How does the role of team coordinator help support the work of PartnerSource?
For me, being a team coordinator is basically keeping everything organized and on track. I serve as the team coordinator for PartnerSource's director-led accounts. In my position, I'm doing things behind the scenes, bringing things to the team's attention, and making sure everyone is on track and doing the best that they can do. My motto is "Help me help you" so we can continue to be successful together, which means that everything is in order, up-to-date, and that our client is happy.
What do you like to do in your free time?
In my off-time, I like to relax. I love to read. I love to write. Ryan and I adopted a little dog, a Chihuahua mix we named Ruby. Every morning, she knows when I'm getting ready for work. She'll jump up and get in my lap before my laptop does, so it's a struggle every morning with her! My husband also works from home right now, as well. It's just the three of us. Before the pandemic hit, we went down to San Antonio with my in-laws and that was fun. We saw the Riverwalk and the Alamo. My parents also came down to visit me, and we went to Waco to see Magnolia.
Do you have a personal quote or saying that motivates you?
It's something my grandfather used to say: "There are no endings, just new beginnings," and that's something that I try to live up to. If I'm sad that something is ending, like living in New York and now living in Texas, or leaving my old job, I think about the new beginning I'm so lucky to have at PartnerSource. I started at PartnerSource on March 2 of last year, right before the pandemic. So many other companies furloughed people during the pandemic, but not PartnerSource. I'm so thankful to have been kept on staff here. I've never enjoyed a job as much as I enjoy this one.