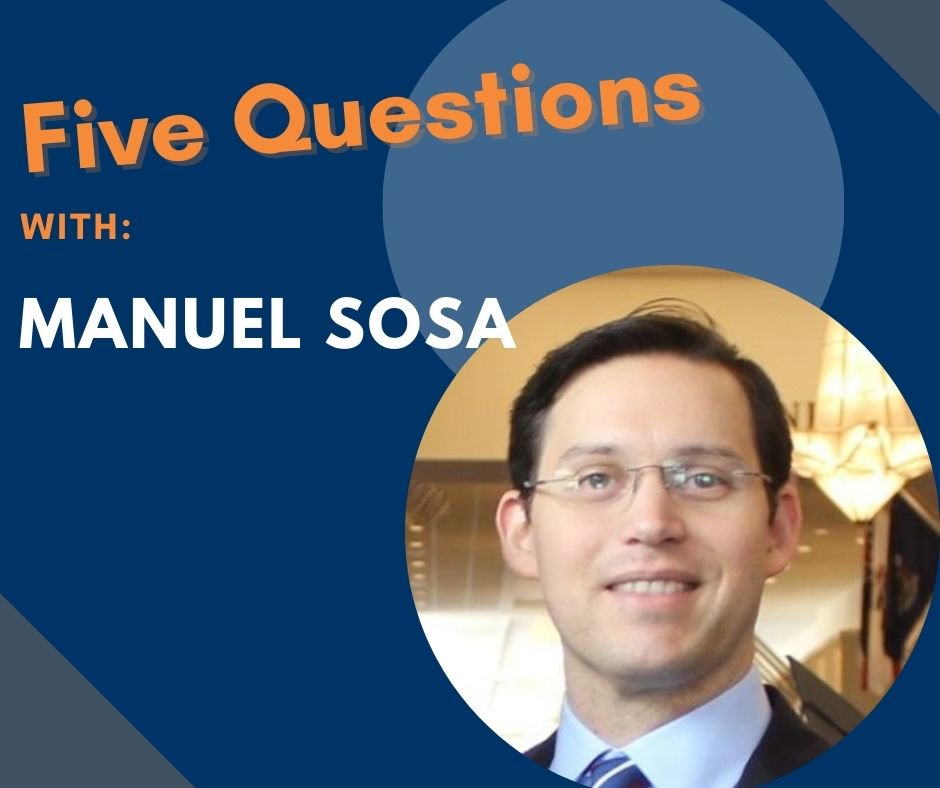 Five Questions With: Manuel Sosa
October 21, 2020
For Manuel Sosa, a risk analyst with PartnerSource, numbers tell a story that can help people get back to work after an injury. While he loves the science of quantification (he has master's degrees in both economics and finance!), one thing that he can't put a number on is his love for this country, his drive to get here, or how much he loves giving back.
What drew you to your role with PartnerSource?
In 2011, I graduated with a master's in economics from The University of Texas at Dallas and was looking for a job with an analytical, quantitative responsibility. With PartnerSource, I found a great opportunity with the potential to help people get back to work and get help as soon as possible after a job accident. By applying my analytical skills to this job, it also gives me an opportunity to look at the big picture and do something greater than myself, helping companies and employees, and helping the state of Texas to grow. That's ultimately what most everyone looks for in a job, seeking opportunities that allow us to help other people, because that's what makes a job fulfilling and satisfying.
How does your role support the mission of PartnerSource?
I was always interested in the whole story, to get to understand things. Numbers, at the end of the day, are stories. Whenever you see a number, it tells you something about a result of something else is going on, and then you need to do some digging and searching to find the factors behind that result. I definitely want to find the story behind the numbers, just like a diagnosis. Every time we run a report for a client, we see great opportunity and potential to what we can bring to the table. It's our opportunity to reinforce our value as a consultant in order for our clients to have a better experience with their medical outcomes, and to save money. We bring value through savings and better medical outcomes, and we do this by collecting and analyzing our client's data for their benefit.
Where is your hometown?
Tampico, a city and port in the state of Tamaulipas, Mexico, on the Gulf of Mexico, about five hours from the border: That's where I grew up and that's where my family still lives. I'm the only one here in Texas. At a very young age, I wanted to experience life in the U.S. I wanted to come for college, study here, and work here. I've always had that ambition or goal. Even though I didn't have the social network here, my parents were very supportive. I wasn't born in Texas, but I got here as soon as possible!
What's something people don't know about you?
Many don't know that I'm the son of two physicians. My father is a retired family physician and my mom is a retired ophthalmologist. They were hard-working individuals. I'm really happy that they decided to retire in their late 50s and they are really living the life now in San Miguel a colonial city in central Mexico. It's like 70 degrees year-round, no humidity!
What's your favorite meal?
Sushi. I think it comes back to growing up in a coastal city, having access to fresh seafood and fish. I could eat sushi every single day -- doesn't matter who makes it. I've learned a little about how to prepare sushi myself. It's not a meal I grew up with; it's something relatively new for the western world and it's something I really enjoy. I like anything with salmon.