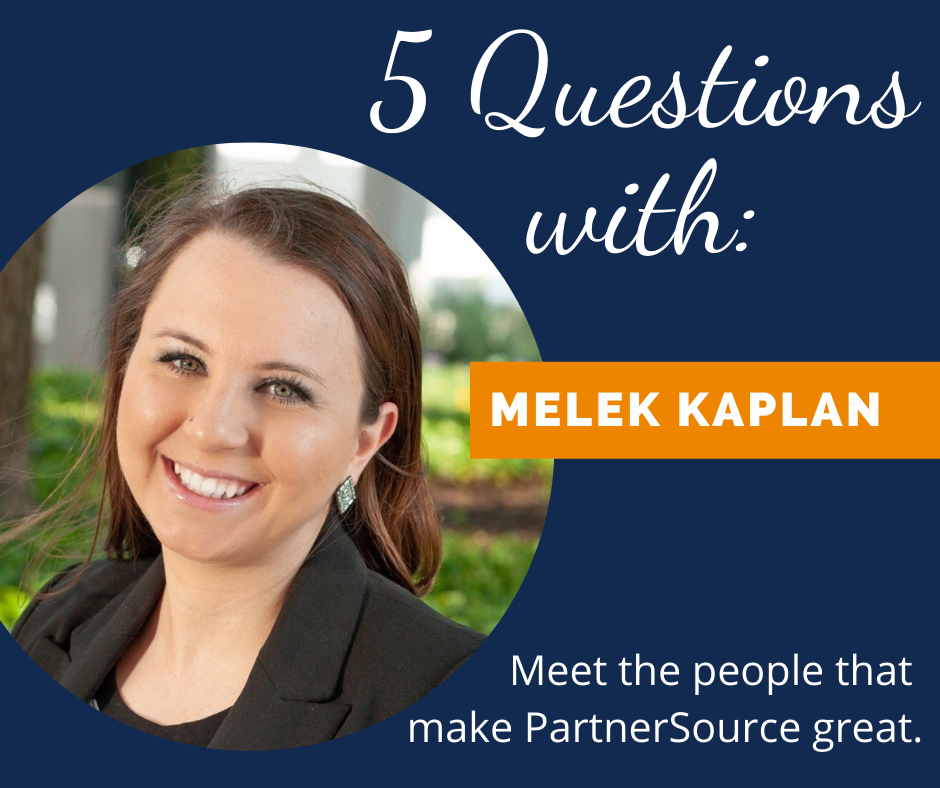 Five Questions with: Melek Kaplan
She's originally from halfway around the globe, but she's as Texan as they come. For this team player, organization is the key to her success and her drive comes from her desire to help her client, their injured employers, and her fellow teammates. Meet Melek Kaplan.
Those who know you have heard your beautiful accent. Where did you grow up?
I am originally from Istanbul, Turkey. My family moved here in 2012 and I started 7th grade and finished my high school years in Midland, Texas. It was interesting, and I loved it: Truly, everyone knows each other in Midland. It was a big change for me, though! It was a struggle not knowing the language and trying to communicate with others. It was a challenge, but after going over that obstacle, I'm so thankful. I actually look at it as one of the biggest challenges in my life--adapting to a new life, new culture, new food, new everything! I'm truly thankful to my parents for bringing us here. I recommend this kind of challenge to everyone because you become more open to the world and the different cultures out there. Now, people tell me I have a Texan accent, and I love it! I think Texas is special – everything truly is bigger here.
Tell us about your family.
My husband is Turkish, and I met him here in Texas in 2013! I'm glad I made the choice to marry him; it was one of the best decisions I have made in life. He is wonderful, and so sweet. Now, we have an 18-month-old son who is everything to us. We enjoy every second of watching him grow; he brings such joy to our life. I'm so thankful to experience motherhood, which is the most wonderful feeling in the world. Every day, my son challenges me to be a better person. For our family of three, life is even more meaningful now.
How did you get to PartnerSource?
I graduated from TWU with a bachelor's in HR management degree and started to search for a career where I could make a positive difference. That's when I found this career with PartnerSource. I read the job description, did some research, and discovered how wonderful the company is. I remember talking to Amy Blank in one of my first interviews--her sweet voice made me want to take the job right away! She explained every little detail, and I took on a team coordinator role under Amanda Thompson. I'm so grateful to have the opportunity to work with such wonderful people here at PartnerSource.
How do you find success as part of the team at PartnerSource?
The most important thing to me is that I help others. My role as a team coordinator allows me to do that by helping all of us manage things to stay on top of our mission and our collective goals. I love how we accomplish everything together. I believe efficiency and being on time is key to my role, as is creativity. On a daily basis, we're faced with questions and tasks that allow me to brainstorm and find solutions. In every aspect of litigation, there's so much to learn every single day! That's what makes my job amazing. As a team coordinator, I love how much I have learned and grown over the three years I've been at PartnerSource. My heart belongs here and we are family. I'm so happy as a team coordinator to be an asset to my client. We help injured associates by fostering a good relationship with them, their employer and my company.
What do you like to do in your spare time?
I love to travel –especially to Cancun—and I enjoy cooking and baking all kinds of different food. I love so many different cuisines: American, Turkish, Mexican, Asian, you name it, but my favorite meal is anything seafood. Growing up in the Mediterranean, we had a lot of fresh fish, and it is one of the best-tasting foods ever. I also love hamburgers and fries, too; don't get me wrong! Cooking and baking is a stress reliever for me. I wish I was one of those people who hated sweets. One thing I can't eat, however, is Hot Cheetos – I'm allergic to them! I break out in hives, which is a shame, because it's one of my favorite foods.