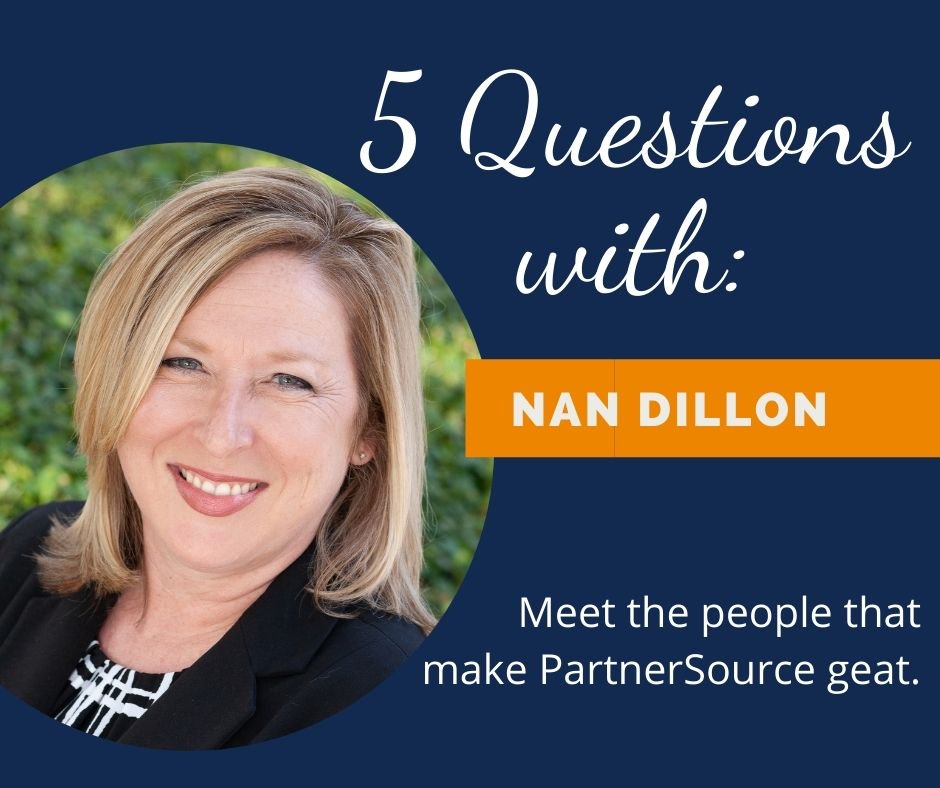 Five Questions with: Nan Dillon
She will don a Batman mask for a PartnerSource video, cheer on soccer teams in the freezing cold, and bring a smile or laugh to anyone she meets. Her fun, outgoing spirit is just part of the warm, driven individual that is vice president of Partnership Services at PartnerSource. Get to know Nan Dillon.
How did you get your start in the workers' comp industry?
I worked at an insurance carrier, where I began by working in compliance. That quickly turned into an opportunity to handle workers' compensation claims for multiple jurisdictions. I was lucky to work a great group of colleagues that helped me learn how to "adjust" claims but, more importantly, how to care for injured workers and their families. In that role, I was able to experience a variety of industries, from small "mom and pop" businesses to large corporations like airline carriers and big-box stores. I even handled many claims for a professional hockey team, so I guess you could say that I "cut my teeth" on their claims involving lost teeth!
What surprised you when you made the move to PartnerSource?
I moved into Texas injury benefit programs about 15 years ago, and came to PartnerSource 10 years ago. Even though I worked with PartnerSource in my previous role, the full scope of PartnerSource's depth of services did not sink in until I came here. There is so much more to it than just looking at benefit coverage; it is more about building the relationships with your clients and by extension their employees. As part of the PartnerSource team, we strive to make sure our clients have the best possible benefits for their injured workers. Before I came to PartnerSource, I would get calls from someone who was crying because they were frustrated and did not understand the system or their benefits. Many times, the caller was confused and did not know where to go, or how they would pay their bills. In my position with PartnerSource, I can find ways to keep employees away from the messy red tape, and in turn help them avoid these hardships. Because I am a planner and love organization, I enjoy the opportunity to help our clients plan proactively to make positive changes for their employees even before anyone needs to access these benefits.
What is one thing most people don't know about you?   
Adoption is my passion. My husband, Scott, and I have been married for 25 years and adoption is something very special to us. Adoption not only brought us our two daughters, but also some extended family in the process. And, we recently rescued our latest fur baby, Ginger, in December. She is our fifth fur rescue and joins Bear, our fourth. With adoption, you just have to have a willing heart.
What do you enjoy doing outside work?  
Outside of work is usually soccer, soccer, and a little more soccer. My husband is an English teacher and the boys' soccer coach at Wylie High School, so most Friday nights, we are watching his teams play. My youngest daughter also plays competitive soccer. As a family, we have a "family movie night" on Fridays or Saturdays each week. This involves pizza and a movie, which is often a superhero movie (my husband is a big Batman fan), or sometimes a comedy that we slide into the mix. I'm an avid reader and am always downloading books so I can learn more about a wide variety of authors. I have about 3,200 books in my Amazon cloud right now. I haven't read them all yet, but I keep downloading them!
What's your favorite meal? 
I must start out by saying that any meal I do not have to cook or clean is my favorite. I love Mexican food! We have a great little place in Wylie called Chiloso that serves grilled steak and avocados that melt in your mouth. I can eat this meal daily with their chips and jalapeno ranch.