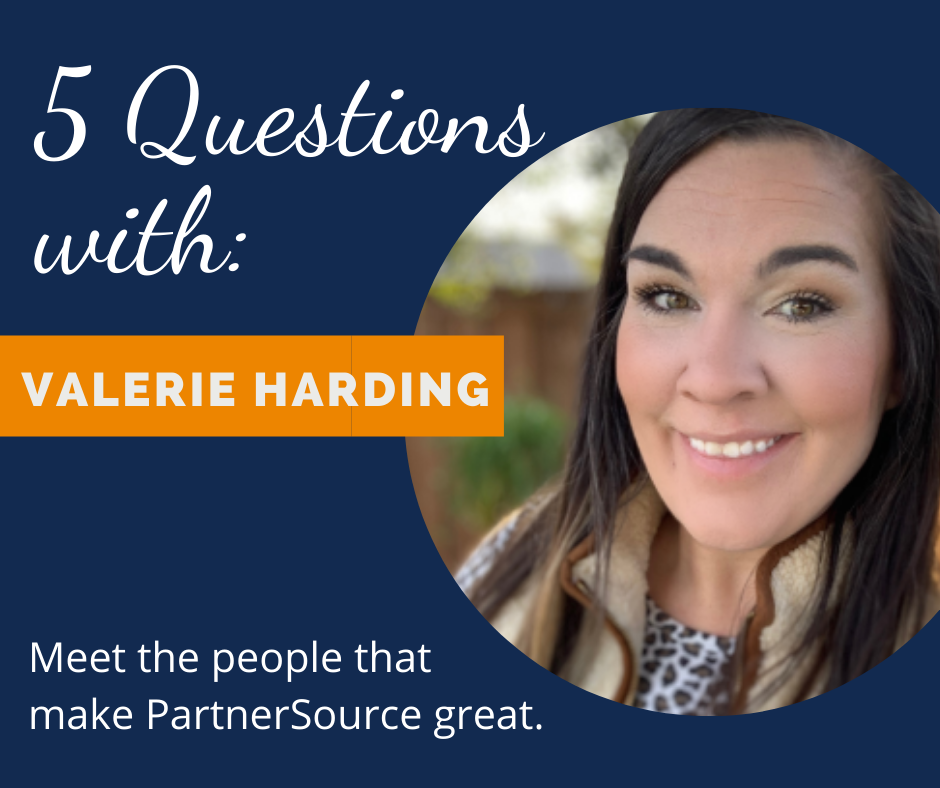 Five Questions With: Valerie Harding
It's very likely that hers will be the first face you see if you come to the PartnerSource offices. She's an engaging people person with her feet firmly planted on the ground, and a competitive streak she uses to push herself to be her best. Find out more about claims manager Valerie Harding.
How did you get to PartnerSource?
In a previous position with a different company, I worked on three different accounts- two engaged with PartnerSource and one that wasn't.  I found the resource PartnerSource provided incredibly helpful and began to understand and appreciate how different employers can interpret plan language differently and how those nuances can lead to different outcomes.  I especially admired how they were able to find creative solutions to complex problems.  They were truly my resource. I went back to school to finish my degree in health studies at Texas Woman's University and took some time away from work to do an internship at the Collin County Child Advocacy Center. After completing my degree, an opportunity arose and I was hired by PartnerSource in December 2019.
How is your current role as a consultant different from being an adjuster?
As an adjuster, I was really hard on myself, very performance-driven. I'm a competitive person by nature, so in my role as an adjuster, I always wanted to have good audit scores.  I was surrounded by great adjusters and always wanted to be better!  But what is better?  Is it closing more claims or completing all tasks within the timeframe required?  There are a lot of pressures on an adjuster and sometimes that makes it difficult to pause long enough to recognize an issue or see a creative solution.  As a consultant at PartnerSource, I've learned that not everything is so black and white, and that situations can truly be gray.  I'm able to really dig in on a small number of files that can make a big difference in a client's program and the life of someone injured.  I think seeing things from both perspectives allows me to be more confident in what I do. Growing up, I always wanted to be a teacher or a nurse, and that feeling that I can help people is what is attractive to me about my role here at PartnerSource.
What does PartnerSource bring to the table?
I definitely do think PartnerSource is the best at what it does. There's nothing "cookie cutter" about working here; the gray areas are open for interpretation and PartnerSource is looking to benefit all parties involved. I think that's fair, and that's how we get the best results for everyone involved. Additionally, PartnerSource is always looking for new solutions and ways to improve, so there's always a fluid level of change, a drive to be better. As a competitive person, I identify strongly with that.
What have you missed the most during this pandemic?
I'm extremely extroverted and I miss seeing people in person on a daily basis! The first desk when you come into the PartnerSource office is mine, and anytime anyone walks in, I get excited. I also miss having Mexican food on a patio with people from my office. We used to go and have stuffed avocados together on Tuesdays. It's the small things I'm most looking forward to enjoying again, like in-person time with people I enjoy. I'm lucky that I have four nephews and a niece who range in age from 3 to 13, and I take any excuse I can to be with those kids. My oldest nephew and I play pick-up basketball. I'm very competitive (anyone from PartnerSource can tell you that!), so I don't just let him win because he's my nephew.
What's one thing people might be surprised to learn about you?
I am 6'2" but am really afraid of heights--so much so that I don't really like to fly. I like my feet on the ground! Also, I can't go anywhere without assessing liability. When I see something like ladders sitting around, or liquid spilled on the floor, I can't let it go. I know what can happen and I have to say something!