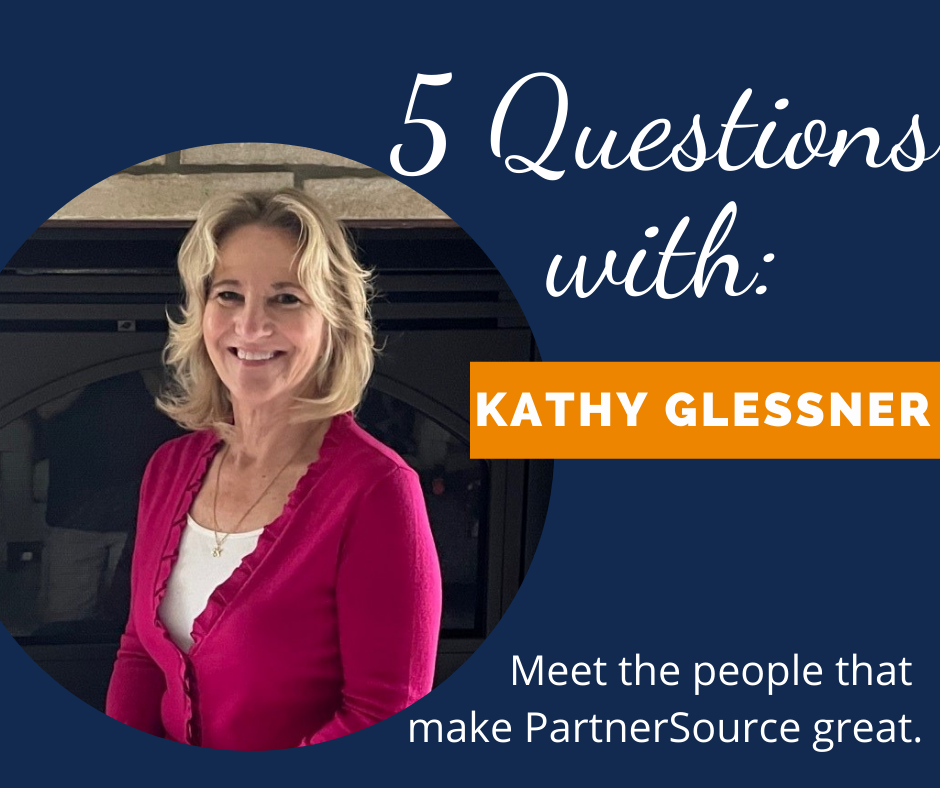 Five Questions with Kathy Glessner
Born and raised in Junction City, Kansas, working remotely is something this account manager did long before the pandemic. She puts her educational skills to good use when helping clients select insurance, and she loves to connect through sports. Meet Kathy Glessner.
You've worked remotely from your home in Kansas for many years, well before the pandemic. How did you handle the transition from a traditional office to one at home?
It was a big transition getting used to being by myself all the time. I have eight brothers and four sisters, so I'm used to a lot of activity around me! Also, before I joined PartnerSource, I was a teacher, and was used to being with 25 or more kids and all that commotion. It is very different going from a classroom to a corporate atmosphere in an office and then to a home office. When you work from home, it's important to get out of the house every day, if you can. I think you have to stay engaged in some outside interests.
How is teaching like working at PartnerSource?
Some of the objectives with teaching and working at PartnerSource are similar, to connect with people and develop a relationship. It's important to listen, which is something that was instilled in me as a teacher, but it's the same thing with adults in business. They need to know you understand their needs and concerns, and, to do that, details are important. At PartnerSource, we don't do anything halfway. My parents modeled and encouraged that, as well: If you're going to do something, do it to the best of your ability.
You're close with your family. How do you spend time together?
I have 35 nephews and nieces, many of whom have their own kids now, too (54 great nephews and nieces and counting!). When I taught middle school, I learned that sports were a great way to connect with children of any age, so I have always made it my goal to attend at least one event each season for each child. It's important for them to know that you support them. I also now have a 6-year-old granddaughter and I travel 120 miles each way to Kansas City every weekend to watch her play soccer and softball, and this summer she will be on a swim team.
What's your favorite meal?
I like seafood – lobster is my favorite. A few years ago, my husband took me to Maine just so I could get fresh lobster. I ate lobster for three days!
PartnerSource is known for its unique and friendly culture. How was that created?
People here have great knowledge in what they do, and they are vested in our success. Secondly, we know there's a purpose in what we're doing, which is benefiting people. What we do allows our clients to take care of their workers and it saves them money, as well. One thing I really love about PartnerSource is how the pieces fit together, how everyone comes together and works as a team for the client. There are so many good people here. You can tell how happy people are working here by the longevity of many of our team members. PartnerSource has a friendly, caring atmosphere. The company wants everyone to succeed—clients and their injured workers, as well as PartnerSource employees. It's just a nice place to work. It's all about helping people.