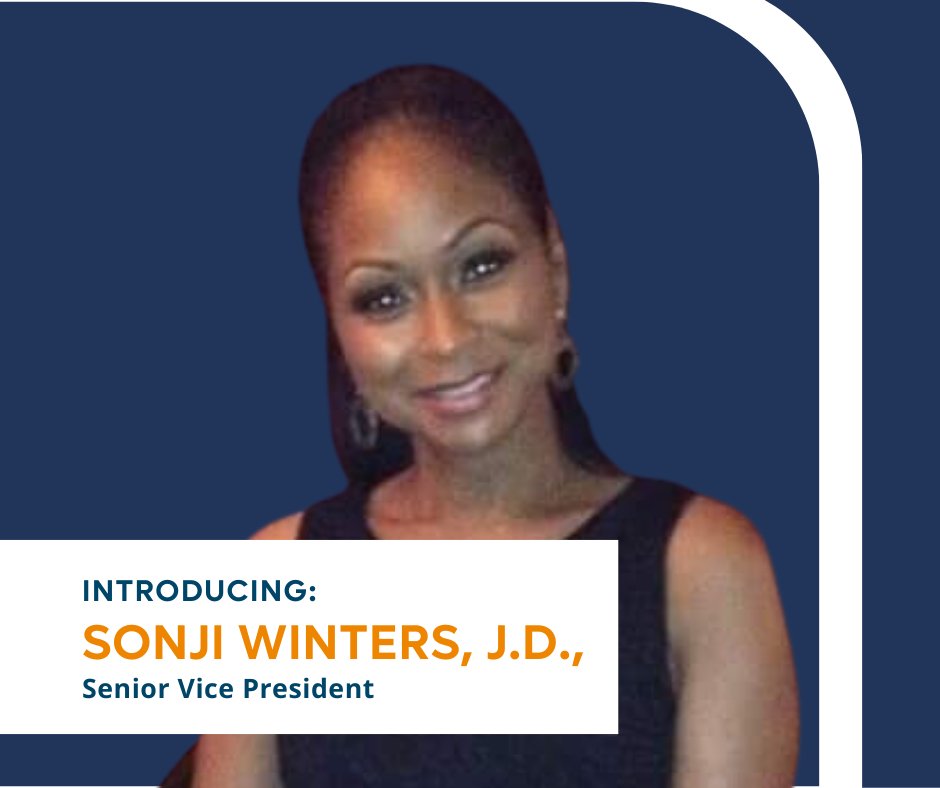 Meet Sonji Winters, J.D., Senior Vice President
New attorney team lead at PartnerSource brings decades of corporate legal experience.
If you want to learn a lot about people, work in traffic court, advises Sonji Winters.
"It's a lot like that TV show 'Night Court'!" Sonji said with a chuckle. "Everyone trying to represent themselves – you see all kinds of the things!"
Recalling the variety of people she met and situations she experienced in her six months serving as a prosecutor in traffic court for City of Dallas makes her laugh even today, many decades and a world of experience later. It was her first role after graduation from law school -- but Sonji credits that job with some good life lessons about people, and for teaching her about a positive work ethic in the face of anything that may happen. 
"That experience definitely prepared me to be in any type of work environment where everything is fast-paced and you have to adapt in real-time," she said.
This native Texan was born in Corsicana and moved to the Dallas area as a toddler. After graduating from The University of Texas at Austin with a degree in communications, she moved back to Dallas to attend law school at Southern Methodist University. 
Sonji's position as an attorney in traffic court quickly earned her promotion to the City of Dallas litigation team, where she began working with employment cases including workplace injury and premises liability. Sonji was immediately intrigued by this type of case and their ability to impact both lives and business.
"I had to learn on the fly how personal injury law isn't just about making sure the person is made whole from a physical and wage standpoint; you also make sure you're protecting your client from an employee committing fraud or an attorney driving up the bills," Sonji said. She also liked the variety: "It was always different – you never knew what to expect."
Sonji then added to her experience by working on in-house corporate legal teams for companies including Southwest Airlines, CEC Entertainment and Sunfinity Renewable Energy. She also consulted for small businesses, particularly those in the construction industry, on contracting, negotiations and employment law. 
"A lot of my work was making sure the employer follows the plan, advising risk management in their dealings with the third-party administrator if there was a reason for us to have to pay out and settle outside of the plan, that it was warranted and that it was reasonable," she said.
When an opportunity arose to join the PartnerSource team as an attorney team lead, Sonji was excited. "This is something that really fits within what interests me," she said. "I've always enjoyed working within the employment, benefits and ERISA area because most of my career, I've worked with companies using the Texas Option."
"I'm excited about the business side, speaking with clients regarding their needs and just trying to ensure that we provide an effective service that is cost-efficient for our clients," she added.
When she's not working, Sonji can be found cycling – she loves the camaraderie of indoor cycling in a group class at the gym – "We all laugh at each other; the group interaction is great," she said – and she enjoys hiking and spending time outside. Places like Northern California and Colorado offer her plenty of that, she said, noting that like most Texans, she's longing for someplace cool.
"I'm also a big sports fan," she said, noting that she likes to watch a variety of sports from tennis, to football and basketball, track and more. "I'm a Dallas Cowboys fan and a Longhorn fan," she adds.
Mom to two boys, Sonji has an older son who graduated from Boston University who works as a computer engineer, and a younger son majoring in finance at the University of North Texas. She also enjoys reality TV, true-crime podcasts and tossing the tennis ball for her German Shepherd Max.