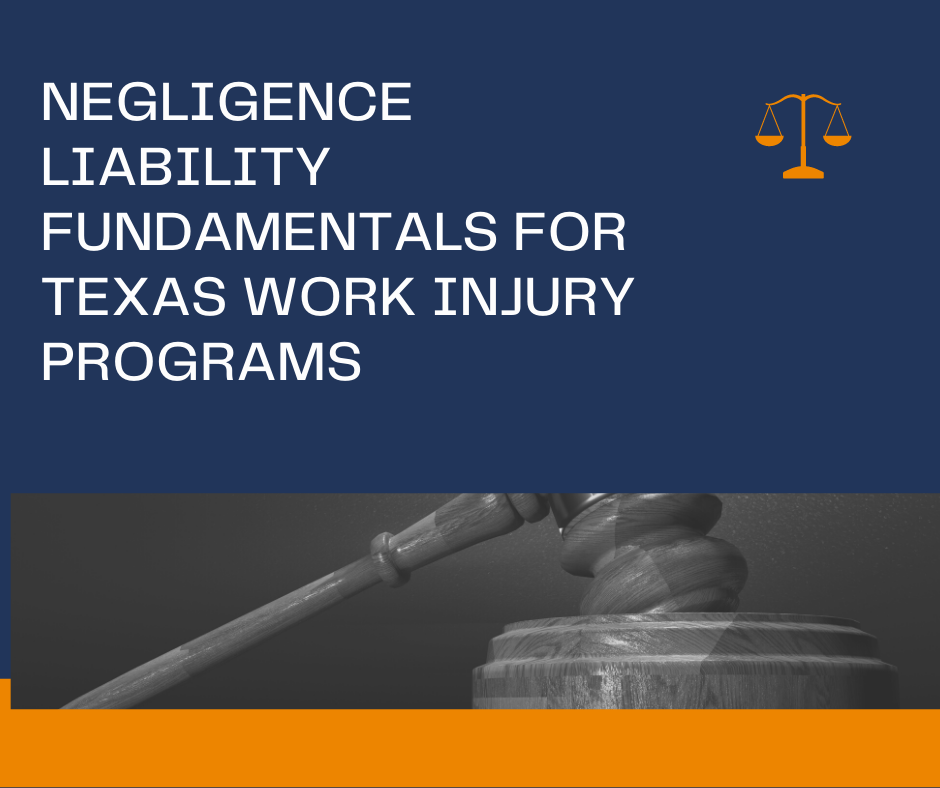 NEGLIGENCE LIABILITY FUNDAMENTALS FOR TEXAS WORK INJURY PROGRAMS
By Richard S. Johnson, J.D.
As an employer or defense counsel for Texas Option liability cases, you may be familiar with this situation: You have just received a lawsuit asserting negligence liability for a work-related injury that happened two years ago. You reach out to the program's third party administrator (TPA) to obtain the initial liability investigation – only to find out that a liability investigation does not exist. You are suddenly faced with the dilemma of finding witnesses/managers that are probably long gone and finding/inspecting equipment that has likely been discarded or has two more years of wear and tear.
For PartnerSource clients, most Texas work injury programs only see 1.5% of all work-related injury claims receive an attorney letter asserting negligence liability – and only 0.4% of work-related injury claims resulting in an actual lawsuit or arbitration demand. However, how you handle these claims can make or break your program. For that reason, it is critical that employers and TPAs have a basic understanding of negligence liability exposure for Texas work injury programs – and how that exposure differs from general liability exposure applicable to customers.
One of the key reasons Texas work injury programs require timely reporting of work injuries is to ensure that the claims team asks key liability questions and preserves relevant evidence. Unfortunately, employers and TPAs often focus only on paying benefits and fail to secure crucial liability-related information at the beginning of claims.
Employers and national TPAs are used to work-related injury claims having protection from negligence liability based on the exclusive remedy rules of workers' compensation. Many employers and TPAs also will use claims adjusters that are only trained to handle workers' compensation claims. These employers/TPAs will then assign excessive claim workloads that often include workers' compensation claims from other states. As a result, claims adjusters will often default to traditional workers' compensation claim practices and completely ignore (or inadequately address) negligence liability exposure.
Because contributory negligence does not apply to Texas nonsubscriber negligence liability claims, plaintiff attorneys love to argue that they must show only 1% negligence in order for the employer to be 100% responsible for the injured employee's damages. Some plaintiff attorneys will mistakenly believe that a Texas nonsubscriber employer has no defenses to an injured employee's negligence liability claims. However, it is inaccurate and misleading when plaintiff attorneys imply that a "watered-down" version of negligence liability applies. For Texas nonsubscriber claims, a plaintiff attorney must still prove ALL ELEMENTS of a traditional negligence liability claim AND overcome the many available defenses that employers can assert for these claims.
Before assigning caseloads, developing investigation processes and training claims adjusters, employers and TPAs need to first understand the basics of negligence liability exposure for Texas nonsubscriber claims:
What is Negligence?
Negligence liability is conduct that falls short of reasonable standards for protecting a person from foreseeable risks of harm. Negligence liability has four basic elements:
Presence of a Duty of Care
Establishing the presence of a duty owed by one person to another is the first element. The employer has a duty to use ordinary care (i.e., act in a reasonable manner) in providing a safe workplace for its Texas employees. Each unique personal injury claim starts with identifying this duty.
Someone Breached Their Duty
A breach of the duty owed by one person to another is the second element. A person breaches his or her duty by failing to act in a reasonable manner toward another person.
The Breach Directly Causes Injuries
The third element is when the breach of duty becomes the direct cause of another person's injuries and the potential for injuries was foreseeable. The type and severity of injuries must be related to a failure to act in a reasonable way. The source of the breach could be a person, business, organization or other entity.
Proving Monetary Losses
The fourth element is closely tied to each of the first three. When a duty exists, and a breach of that duty directly causes an injury, the injured person is responsible for proving the nature and extent of his injuries.
Loss of Certain Defenses
For personal injuries to Texas employees, a Texas Option employer loses certain legal defenses that it would normally have for a general liability claim (for example, customer personal injuries):
Contributive/Comparative Negligence
The employer cannot reduce or eliminate its negligence liability for a Texas work injury by asserting that the work injury was partially caused by the injured employee's negligence.
Negligence of a Fellow Employee
The employer cannot reduce or eliminate its negligence liability for a Texas work injury by asserting that the work injury was caused (partially or completely) by another employee's actions.
Assumption of the Risk
The employer cannot reduce or eliminate its negligence liability for a Texas work injury by asserting that the employee assumed the risk of injury by knowingly getting involved with a hazardous activity or condition.
Available Defenses
For personal injuries to Texas employees, employers DO HAVE many legal defenses under the Texas Labor Code or through Texas court decisions:
Sole Proximate Cause - The injured Texas employee was 100% at fault for the work injury. This includes without limitations intentional actions the employee did to bring about the injury.
Deviation – The employee was not in the course and scope of employment at the time of the incident.
Intoxication – The injured employee was intoxicated at the time of the work injury. This defense is strengthened if the employer can prove that the work injury was actually caused by the employee's intoxication.
ERISA Preemption – Although this defense cannot be used for negligence liability, it can be used to dismiss state claims like misrepresentation or bad faith claims practices.
Failure to Follow Instructions/Rules – The injured Texas employee received appropriate instructions for performing a task and was injured by not following these instructions.
Failure to Use Available Safe Alternatives – The injured Texas employee has an obvious safe way to perform a work task but chooses an unsafe way that is clearly unnecessary.
Normal Job – The injured Texas employee's work injury is not foreseeable because the employee was injured while performing their normal job with no change in the ordinary circumstances of the job.
Obvious Hazard – The employer does not have a duty to warn, or provide specialized training to, employees with respect to a work hazard that is (1) known and appreciated by the employee, and (2) not unusually dangerous.
Unforeseeable Criminal Acts – A nonsubscriber employer owes no duty to protect employees against criminal acts of third parties that are not foreseeable. The courts will apply the Timberwalk factors to determine if the employer exercised reasonable care and whether the criminal act was foreseeable.
Once employers and TPAs understand the elements of negligence and the available defenses, they can then develop recorded statement scripts and conduct training that matches these elements to the facts of actual claims. Employers and TPAs must investigate negligence liability exposure to at least the same depth and degree as customer injuries.
One final note: Make sure that liability investigation materials are kept separate from benefit investigations to the extent possible. Benefits under the ERISA Plan are typically provided on a no fault basis – so claims adjuster do not need any fault-based information for making a benefit claim decision (safety reports, etc.). Texas attorneys will often request the benefit claim file in order to see if they can find admissions of liability or other information for making a separate negligence liability claim against the employer. Routine negligence liability investigations that are not "in anticipation of litigation" or done at the direction of a retained attorney IS LIKELY DISCOVERABLE in a future lawsuit.
For assistance developing negligence liability investigation materials – such as client service instructions, recorded statement scripts customized for various work injury types, or training materials for location managers and claims adjusters – please contact your PartnerSource team leader or claims director.