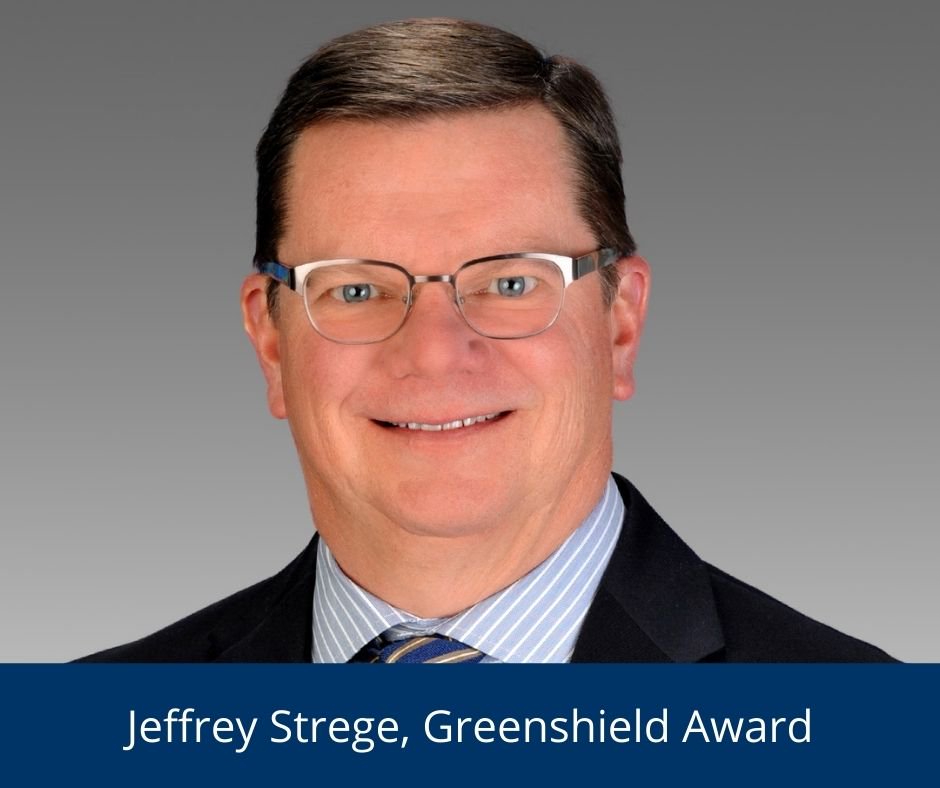 PartnerSource Honors Jeffrey Strege with Greenshield Award
Professional recognized for highest level of achievement in delivering better medical outcomes & economic development through alternatives to workers' compensation
DALLAS, Texas (Oct. 28, 2020) – PartnerSource, the leading source for responsible alternatives to traditional workers' compensation in Texas, recently honored with the Greenshield Award Jeffrey Strege, formerly senior director of risk management for Sysco Foods and now senior director of risk management with Academy Sports + Outdoors. The Greenshield Award is given annually at the PartnerSource Employers' Conference to an outstanding professional who is committed to helping deliver better medical outcomes and economic development through responsible alternatives to workers' compensation.
"This award recognizes the highest level of achievement in this mission to do better business by taking excellent care of employees," Bill Minick, chairman of PartnerSource, said. "Jeff has always focused on providing quality benefits and medical care to injured workers so they can recover quickly and return to work and their families."
Strege was presented with the Greenshield Award at the PartnerSource Employers' Conference, the premier conference in the industry for Texas injury benefit plans. This year's 20th anniversary conference was attended virtually by hundreds of professionals from sectors including retail, hotels, food service, transportation and logistics, healthcare and many more.
Strege, a resident of Houston, Texas, began his career as a claims representative with Employer's Casualty Company. His excellent experience in risk management leaves a legacy of innovation at companies including Advance Auto Parts and Sysco Foods. As a member of the board of directors for the Association of Responsible Alternatives to Workers' Compensation, Strege oversaw the development of the QCARE program, devoting substantial time and energy to building clarity and deserved credibility for Texas injury benefit programs that meaningfully contribute to economic growth for the State of Texas. Strege serves on the Board of Directors of the Houston Risk & Insurance Management Society (RIMS) Chapter, and was also recently selected by Risk & Insurance magazine as a "2020 Risk Allstar" award winner.
Strege holds a bachelor's degree from Concordia Lutheran College and a master's in business administration from Averett University. He also holds the Associate in Risk Management (ARM) and RIMS-CRMP designations.
About PartnerSource
PartnerSource is the leading provider of a responsible alternative to traditional workers' compensation for businesses operating in the state of Texas. The company dedicates deep talent from a team of more than 30 experienced employees to provide end-to-end strategies that are easy to use, fiscally responsible, and driven by the purpose that better business comes from caring for injured workers. PartnerSource clients achieve better medical outcomes and deliver better wage replacement benefits for their injured employees than when using traditional workers' compensation plans, while also recognizing significant net cost savings. Based in Dallas, Texas, PartnerSource provides industry leadership and education through its annual conference and participation in numerous workers' compensation industry events, awards and associations that support people injured on the job. PartnerSource is also a proud supporter of the Kids' Chance of Texas scholarship fund, which is dedicated to bettering the lives of injured workers and their families. More information about PartnerSource is available at PartnerSource.com or by calling (214) 239-4586.
###