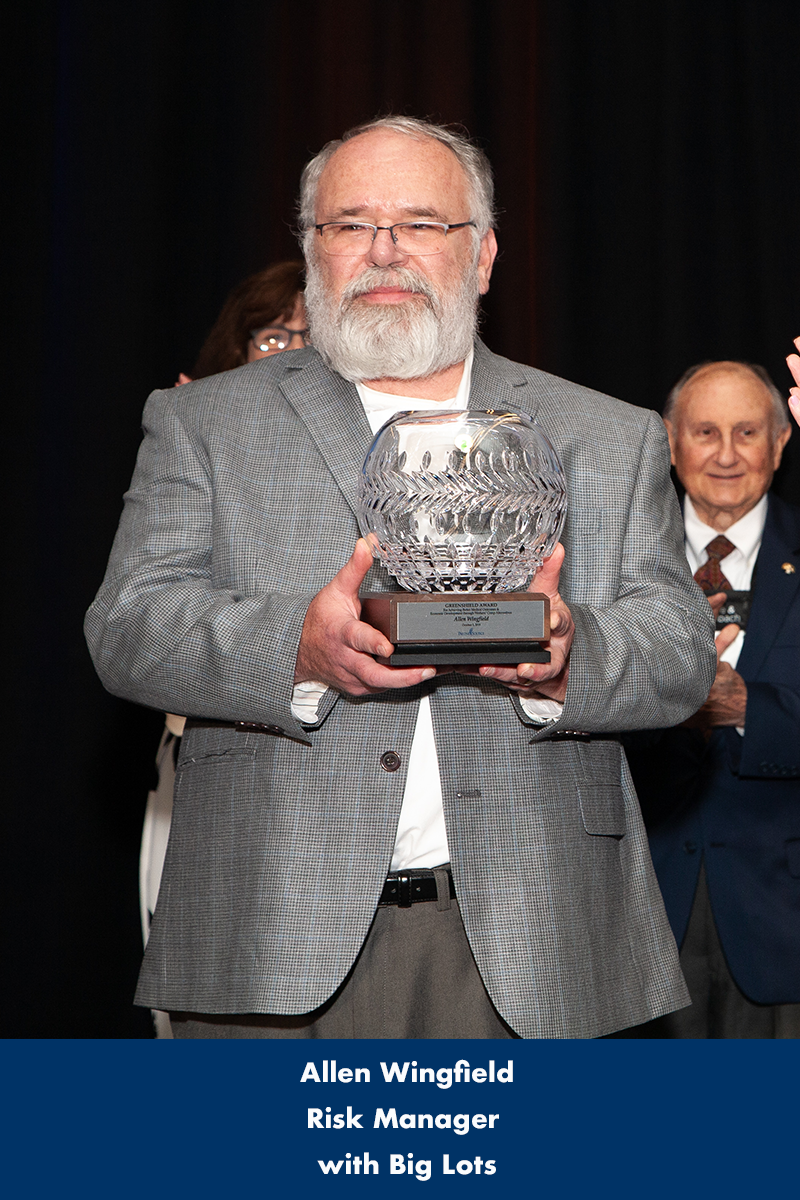 Media Contact:
Suzanne Gentry Flodin
214-500-4289
suzanne@thegentryagency.com
FOR IMMEDIATE RELEASE
PartnerSource Honors Wingfield with Greenshield Award
Texas nonsubscription industry leader acknowledged for helping to deliver better medical outcomes for injured workers
DALLAS, Texas (December 3, 2019) – PartnerSource, the leading source for responsible alternatives to traditional workers' compensation in Texas, recently honored Allen Wingfield, risk manager for Big Lots, with the Greenshield Award. The award is given annually at the ParnterSource Employers' Conference to a professional who is committed to helping deliver better medical outcomes for injured workers.
"This award recognizes the highest level of achievement in delivering better medical outcomes and economic development through alternatives to workers' compensation," Jennifer Hurless, president of PartnerSource, said. "Al is a compassionate, dedicated, forward-thinking professional who advances both his employer and employees by doing the right thing in the care of injured workers."
Wingfield was presented with the Greenshield Award at the PartnerSource Employers' Conference, the premier conference in the industry for Texas injury benefit plans that was held in October in Irving, Texas. This year's sold-out conference was attended by hundreds of professionals from sectors including retail, hotels, food service, transportation and logistics, healthcare and many more. Margaret Greenshield, vice president of Human Resources at James Avery Craftsman and the award's namesake, was on-hand to present the award to Wingfield.
Wingfield, a resident of Columbus, Ohio, began his career with Big Lots in 1987 as a district asset protection director. He became a regional safety in 1992, corporate safety director in 1994 and risk manager in 1998 and, through his various roles, was instrumental in the design, implementation and management of the Big Lots Safety Program. In 2008, he spearheaded the development of Big Lots Texas Injury Benefit Program, which today covers employees working at more than 100 stores throughout Texas. Wingfield joined the Association for Responsible Alternatives to Workers' Compensation (ARAWC) in 2014 and served as the organization's president in 2017 and 2018.  
Wingfield is a graduate of Indiana University-Purdue University Indianaopolis (IUPUI) with a degree in criminal justice.
About PartnerSource
PartnerSource is the leading provider of a responsible alternative to traditional workers' compensation for businesses operating in the state of Texas. The company dedicates deep talent from a team of more than 30 experienced employees to provide end-to-end strategies that are easy to use, fiscally responsible, and driven by the purpose that better business comes from caring for injured workers. PartnerSource clients achieve better medical outcomes and deliver better wage replacement benefits for their injured employees than when using traditional workers' compensation plans, while also recognizing significant net cost savings. Based in Dallas, Texas, PartnerSource provides industry leadership and education through its annual conference and participation in numerous workers' compensation industry events, awards and associations that support people injured on the job. PartnerSource is also a proud supporter of the Kids' Chance of Texas scholarship fund, which is dedicated to bettering the lives of injured workers and their families. More information about PartnerSource is available at PartnerSource.com or by calling (214) 239-4586.