PartnerSource Names Compassion Service Award Winners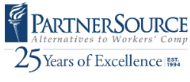 Media Contact:
Suzanne Gentry Flodin
214-500-4289
suzanne@thegentryagency.com
FOR IMMEDIATE RELEASE
PartnerSource Names 2019 Compassionate Service Award Winners
Winners noted for outstanding dedication to employees' health and well-being
DALLAS, Texas (Nov. 6, 2019) – PartnerSource, the leading source for responsible alternatives to traditional workers' compensation in Texas, recently honored two industry professionals with awards for outstanding commitment and dedication. Kelsey Shutrump, a claims examiner with Hobby Lobby, and Donna Cook, nurse case manager with OccMD, were each honored for their compassionate commitment to injured workers. They were named winners of the Compassionate Service Awards at the 2019 PartnerSource Employers' Conference held in Irving, Texas.
"Demonstrating kindness, compassion and empathy in the care of injured workers typify both of these award winners," Jennifer Hurless, president of PartnerSource, said. "It's an honor to recognize industry professionals whose work exemplifies the way people should be cared for, the way that PartnerSource and our clients believe people should be treated."
The Compassionate Service Awards are given annually at the PartnerSource Employers' Conference, the premier conference in the industry for Texas injury benefit plans. This year's sold-out conference was attended by hundreds of professionals from sectors including retail, hotels, food service, transportation and logistics, healthcare and many more. Award winners were chosen based on nominations from PartnerSource employees.
Shutrump, a resident of Yukon, Oklahoma, is the dedicated claim examiner for the Hobby Lobby's Texas injury benefits program at the company's corporate headquarters in Oklahoma City.
"Kelsey is an advocate for employees, conscientious about the decisions she makes, and demonstrates a high level of respect for employees in her communications and actions. She embodies the core values of both Hobby Lobby and PartnerSource, which include serving employees in the manner that we would all want to be treated ourselves," Hurless said.
Cook, a resident of Carrollton, serves as a nurse case manager with OccMD, a company based in the Park Cities.
"Donna takes great care in communicating with employees, offering support as she assists them in navigating them towards recovery," Hurless noted. "Donna has received compliments about her service, professionalism and compassion from the injured workers, client and physicians. She goes above and beyond to help people."
About PartnerSource
PartnerSource is the leading provider of a responsible alternative to traditional workers' compensation for businesses operating in the state of Texas. The company dedicates deep talent from a team of more than 30 experienced employees to provide end-to-end strategies that are easy to use, fiscally responsible, and driven by the purpose that better business comes from caring for injured workers. PartnerSource clients achieve better medical outcomes and deliver better wage replacement benefits for their injured employees than when using traditional workers' compensation plans, while also recognizing significant net cost savings. Based in Dallas, Texas, PartnerSource provides industry leadership and education through its annual conference and participation in numerous workers' compensation industry events, awards and associations that support people injured on the job. PartnerSource is also a proud supporter of the Kids' Chance of Texas scholarship fund, which is dedicated to bettering the lives of injured workers and their families. More information about PartnerSource is available at PartnerSource.com or by calling (214) 239-4586.