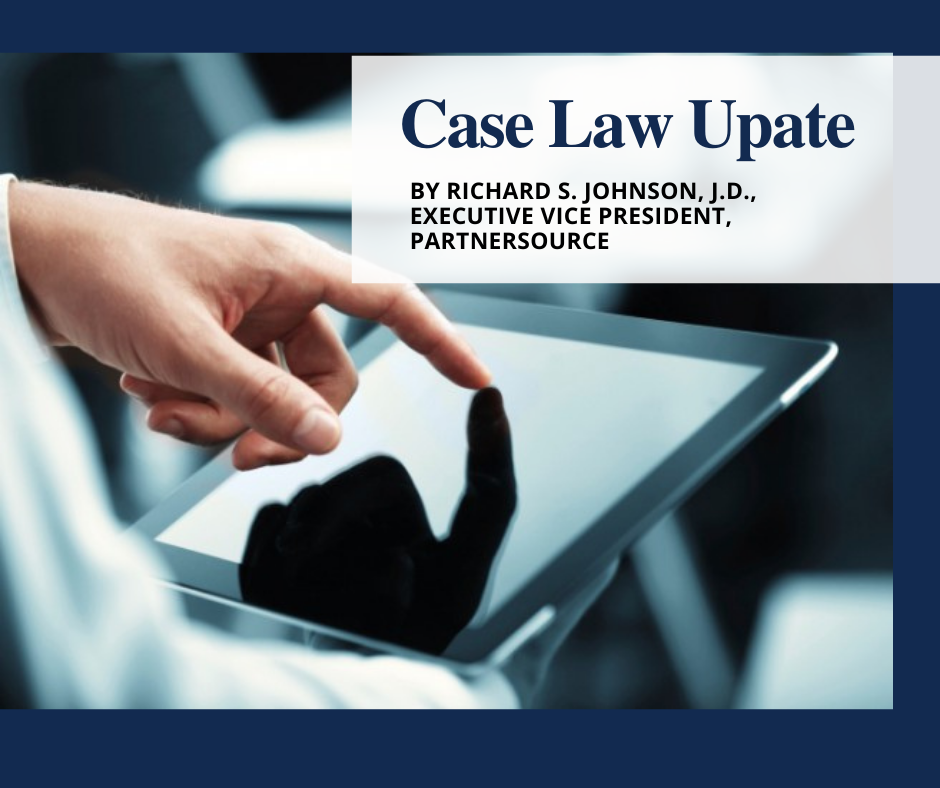 Use of Electronic Onboarding of Arbitration Policies
January 18, 2021
Richard S. Johnson, J.D., executive vice president, PartnerSource
Many businesses use electronic onboarding for employees. Companies with Texas injury benefit plans are increasingly using electronic onboarding for applying arbitration policies to negligence liability disputes that Texas employees could bring for Texas work-related injuries. PartnerSource is monitoring a case reviewed by the Texas Supreme Court, Aerotek, Inc. v Boyd, No. 05-18-00579-CV (Tex. App. – February 25, 2020), regarding electronic onboarding of arbitration policies for Texas employees.
The Texas Supreme Court recently granted review of Aerotek, Inc. v Boyd, No. 05-18-00579-CV (Tex. App. – February 25, 2020). In Aerotek, the Dallas Court of Appeals found that the trial court did not abuse its discretion by denying a motion to compel arbitration that involved an electronic onboarding process.
At the trial court level, both parties agreed that the Federal Arbitration Act (FAA) governed the enforceability of Aerotek's arbitration policy. Aerotek provided evidence that Boyd reviewed Aerotek's electronic onboarding materials, which included reviewing and electronically acknowledging a "Mutual Arbitration Agreement" document. Aerotek confirmed that Boyd used a unique user ID and password and that the system would not have allowed Boyd to complete the acknowledgment before he had consented to receive company documents electronically and reviewed the actual arbitration policy. Aerotek's system also date-stamped the process, tracked completion and provided a training history.
In response, Boyd only provided testimony that he never signed anything and that he knew nothing about the arbitration policy. In denying arbitration, the court relied in part upon Kmart Stores of Tex. LLC v. Ramirez, a 2016 case with very similar facts to Aerotek in which the El Paso Court of Appeals held that the employee's testimony created a "fact issue" that the judge could resolve in the employee's favor.
The dissenting justices in the Aerotek case argued that the evidence clearly showed that Aerotek's electronic onboarding process created a valid contract under the FAA and that there was no evidence that the electronic records or software had been altered. The dissent cited U.S. Supreme Court holdings that arbitration agreements are strongly favored and subject to the same proof standards as any other contract. The dissent also cited the Texas Supreme Court holding in City of Keller v. Wilson, 168 S.W.3d 802 (Tex. 2005) that the correct standard of review should be whether "Aerotek presented evidence that a reasonable factfinder could not disregard establishing appellees' electronically signed the arbitration agreement at issue despite appellees' statements that they had not agreed to arbitrate."
The dissent concluded that it would have been "physically impossible" for Boyd to complete the onboarding paperwork without electronically signing the arbitration agreement. The dissent also noted that the ruling opened up every contract involving a computer to "costly nuisance-value litigation and abuse."
PartnerSource will continue to monitor this case closely and provide updates.