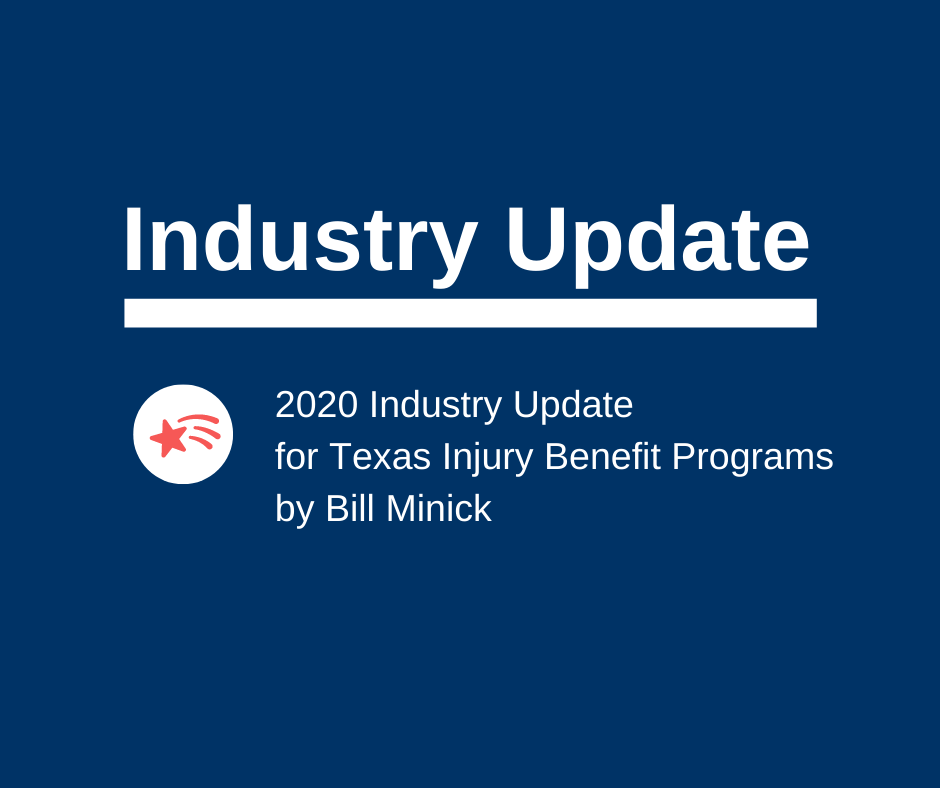 2020 Industry Update for Texas Injury Benefit Programs
October 8, 2020
Bill Minick, Chairman
Statistically-Credible Research. One of the most exciting resources and ground-breaking developments of the past year was the PartnerSource "2020 Texas Injury Benefit Program Performance Report". Found on the PartnerSource website homepage, it provides links and summaries for many research reports, including a new University of Illinois study that found Texas injury benefit programs, compared to Texas workers' compensation:
Drop total medical payments immediately by 40%,
Are better able to avoid hospitalizations of injured workers,
Immediately reduce days of disability by 80%,
Reduce litigated claims by 35%, and
Reduce total employer cost by 46%!
Of course, "individual results will vary." But the results achieved by PartnerSource clients have been fantastic and consistent.
Transparent Goals and Processes. ARAWC's six-part "Innovation Series" is a great, new source for videos, articles and statistics on how Texas injury benefit programs pursue the exact same goals as workers' comp, and the differences in how we pursue and better achieve those goals.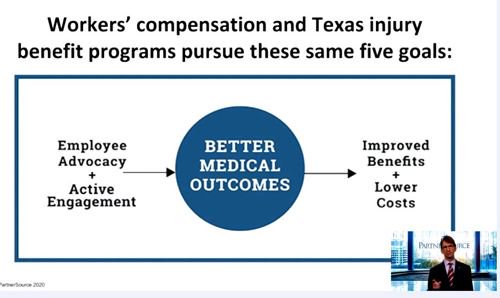 Quality Program Structure. The new QCARE designation has taken off as an industry, self-regulated "Seal of Approval" for Texas injury benefit programs. QCARE stands for a Qualified Compensation Alternative for Recovering Employees. This is a simple, free, online designation for responsible Texas injury benefit programs. QCARE draws a clear distinction between (A) the good, responsible employers who have invested significant time and resources into developing and managing a responsible Texas injury benefit program, and (B) the relatively few irresponsible companies that just "opt out" or otherwise don't meet modern industry best practices in caring for their Texas employees. This is an industry-level (not PartnerSource) designation developed by ARAWC that any employer or their authorized representative can apply for. This past summer, ARAWC announced it had already hit its 2020 Goal of having over 400,000 Texas workers covered by QCARE programs. The QCARE Employer Registry shows almost 50 designated employers – very good company to be in. That list will grow in 2021 as more employers seek the reputation and defense litigation advantages of the QCARE designation. Check out the videos and brochures on the QCARE.org website to learn more.
COVID-19 Guidance. This time last year, none of us expected so much of our lives to revolve around a global pandemic. But Richard Johnson at PartnerSource has led our COVID-19 guidance and compliance efforts, and we've ALL risen to the occasion. COVID-19 resources and other quality 2020 guidance for Texas injury benefit programs are on our website.
Prompt Reporting of Injury Claims. For more than three decades, we have been cheerleaders ERISA compliance. The U.S. Department of Labor recently communicated that it has concluded a series of investigations into the operation of Texas injury benefit plans. The only issue DOL has raised is with the time frame for reporting injuries, and the industry will continue to engage in dialogue with DOL on this important issue. ARAWC needs your membership support to continue delivering positive solutions on important, industry-level issues, like this and...
Next Up in Austin. Stay tuned for results from a new 2020 Texas Department of Insurance survey on employer participation in workers' comp, which will be released later this year. That biennial – every two years – survey always includes some helpful (and sometimes bizarre) findings about Texas injury benefit programs. And the 2021 Texas Legislative Session will kick off on January 12, 2021. ARAWC members will stay abreast of:
Any proposed changes to Texas workers' compensation laws,
Other possible changes and recommendations ARAWC may have related to injury benefit programs, and
What the Legislature will do to balance the budget next year.      
Unlike many states, Texas law requires a balanced budget and lawmakers won't end the 2021 session until they've done it – and that may take a while. So, it will likely be another wild ride in Austin!
Another Great Year Ahead. The entire PartnerSource team expresses sincere thanks to our many clients and business partners that have made 2020 a highly successful year, even in the midst of great adversity. Together, we will remain keenly focused in 2021 on the health & welfare of our injured team mates, and continue to deliver outstanding results through the most effective work injury platform in America.